PODS-Info is a notification system accessible by text message or email to the Montreal community concerned by the use of psychoactive substances. These alerts are created based on certain information obtained from the reports, which are considered important in terms of preventing overdoses and/or unwanted experiences.
These notifications track trends and changes in the characteristics and potential effects of substances available in the city; they are shared so that people have the tools to approach and experience their substance use in an informed way. You can register at any time!
We will also share this information on our social networks; click
here
 to view our Facebook page and 
here
for Instagram.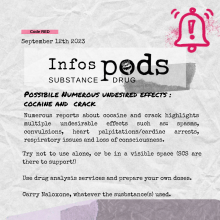 Info PODS- Cocaine and crack
12 September, 2023 - Red
Numerous reports about cocaine and crack highlights multiple undesirable effects such as: spasms, convulsions, heart palpitations/cardiac arrests, respiratory issues and loss of… Voir plus